The 2021-2025 term has gotten off to a busy start for the five members of Sedgewick Town Council. Upon being elected into office on October 18th, the four councillors and mayor attended an in-house orientation session on October 25th and 26th where they reviewed their roles and responsibilities, code of conduct and the Municipal Government Act among other topics.
At 10:30am on October 26th, Councillors Tom Bahm, Nolan Lewis, Clayton Hinkey and Ian MacEachern along with new Mayor Stephen Levy attended a swearing-in ceremony at the Community Hall where they all took their official oath of office in front of a commissioner of oaths which is a legislative requirement prior to performing any duty of office.
Soon after, the Mayor and Councillors congregated for the annual organizational meeting on October 28th where Tom Bahm was appointed as Deputy Mayor for the inaugural year.
Only a few days later, members of Council again participated in another full day of orientation on November 4th at the Killam Community Hall along with elected officials from neighbouring municipalities. In addition, two members will also be attending the Alberta Urban Municipalities Association's 2021 convention running from November 17th to 19th at the Edmonton Convention Centre which includes several training sessions for elected officials from around the province.
The next meeting of Council is Thursday, November 25th at 6pm in Council Chambers at the Town of Sedgewick administration office.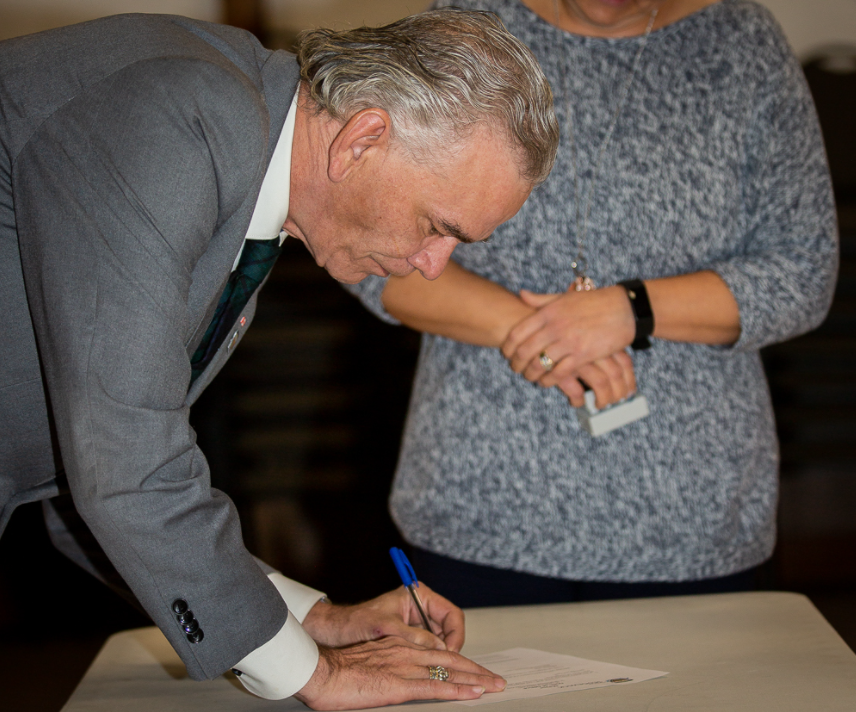 Mayor Stephen Levy signs the official oath of office
Councillor Tom Bahm is sworn in as Deputy Mayor