Attractions
Learn more about the attractions and activities you can enjoy in the Town of Sedgewick.
As an introduction to the community, check out our informational video on the Town of Sedgewick and surrounding areas.
---
Sedgewick Centennial Golf Club
Located on the north side of the Town of Sedgewick, the Centennial Golf Club  boasts a renovated, licensed clubhouse with weekday, daily specials during the season, and a fully stocked Pro Shop. Enjoy a nine-hole round of golf alongside mature trees next to the fairways and greens.
Learn more about the Golf Course on their website: Here.
Check out current activities and  Clubhouse Specials of the day on their Facebook Page
---
Sedgewick Main Street Park Project
The goal of the Main Street Park Project was to create a safe, interesting park with year-round colour and texture for the enjoyment of all citizens. Main Street Park has become a favourite gathering spot in the community.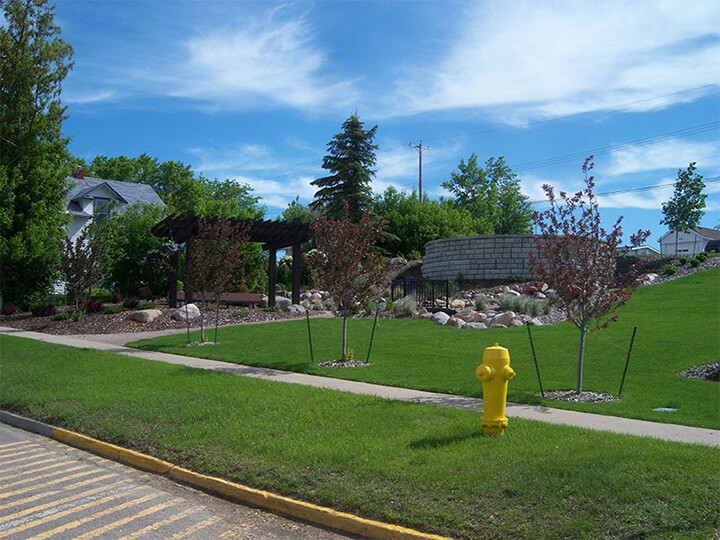 ---
Christmas in the Park
---
The Wild Rose Co-op Recreation Centre
The Wild Rose Co-op Recreation Centre hosts many activities from curling, skating, hockey, bowling, baseball, football, lacrosse, to Agricultural Society rodeos, professional music concerts and much more. This multi-purpose Centre hosts many of the Town's activities and can be used for private events as well.
For inquiries, please contact the Recreation Centre at (780) 384-3751 or via email
The Wild Rose Co-op Recreation Centre is also the home of the Sedgewick Public Library and the Sedgewick Playschool.
---
Sedgewick Lake Park Campground
Experience family-focused camping with single and group spots as well as a two mini-cabins for rent. There is a playground, a wading pool and a splash park!
Check them out on Facebook!
Phone: (780) 384-2256
Mail: Box 129, Sedgewick, AB T0B 4C0
Address: 44243 – Range Road 124 (Township Road 442A & Range Road 124)
Directions: 1 km north of Sedgewick on Range Road 124
Call (780) 384-2256 for bookings of the regular sites.
Email: sedgewicklakepark@gmail.com
COMING SOON: 2 cabins for rentals!
---
The Sedgewick Lake Park Wading Pool
The Sedgewick Lake Park Wading Pool is maintained at a constant 78 degrees Fahrenheit during the summer camping season. Summer Family passes can be purchased at the Sedgewick Lake Campground Office for $40.00.
Daily drop-in fee is $2.00/child or $5.00/family to be paid at the Lake Campground Office.
The pool can be accessed for free by paid campers.
Family Swimming Pass ($40.00)
2 Day Camping Gift Certificate ($68.00)
Please note that children under the age of 12 MUST be accompanied by an adult while at the pool. Any children not supervised will be asked to leave the pool. (This is the policy of the Sedgewick Lake Park Association.)
______________________________________________________________________________
The Battle River Splash Zone at Sedgewick Lake Park!
The Battle River Splash Zone Spray Park was developed at the Sedgewick Lake Park in 2018.
Annual Family Pass  $40
Drop-in Family Fee    $5
Registered Campers' access for Free.
See the action on their Facebook Page: Battle River Splash Zone